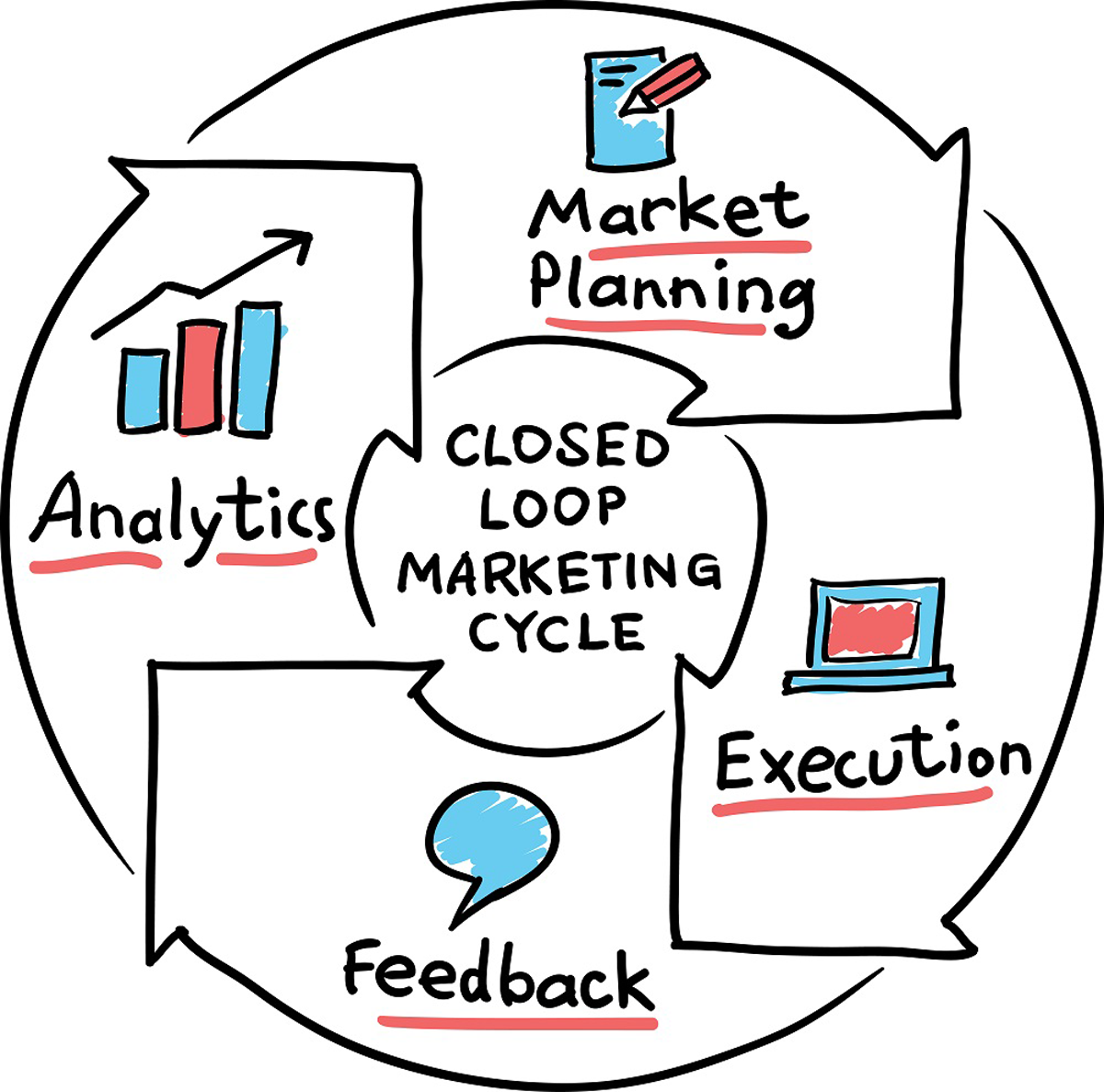 Ever heard of the quote from John Wanamaker (one of the pioneers of marketing), "Half the money I spend on advertising is wasted, the trouble is I just don't know which half"?
Well, luckily for you, this quote will no longer apply for you.
With the use of great inbound marketing analytics tools such as HubSpot, you can instantly examine the result of every inbound marketing techniques and channel you've ever known with astonishing accuracy.
Not only that, as you "close the loop" by mixing your analytics data from marketing software with your sales CRM data, inbound marketing becomes just as science as it is an art.

Then everything becomes beautiful.
What do we actually mean by "closed-loop"?
Closed-loop means the interconnection of feedback between two or more systems, allowing the information to flow in a cycle.
If you found that to be jargony, let us define it simply.
You see, in the inbound marketing industry, "close-loop" actually means sales reports that are actually fed back to the marketing team. What happens when doing this is that marketing guys can then be able to evaluate their results based on key metrics such as revenue and customers instead of clicks and impressions.
So, why it's critical to have close-loop reporting?
With valuable data gathered from closed-loop reporting, guys working in the marketing department can exactly pinpoint which channels and techniques are generating returns on their investments, and thus focus their marketing efforts on important tasks. Once you know which marketing methods are driving more customers and revenue to your site, you are then in a good position to know which half of your advertising funds is being actually wasted.
How does closed-loop marketing strategy actually work?
The easy and simple process of closing the loop is to transform your website into a central core for all your marketing activities. Email marketing, organic search, referral links, social media marketing, paid search, and even offline campaigns should lead visitors to your website. Once people start visiting your website, then you'll be in a good position to keep track of their activity.
It may seem complex at first, but close-loop marketing can be quickly explained with these four steps:
Step 1: Visitors lands on your website, and a cookie is set to confirm his/her referral source
Whenever someone visits your website, make sure to always record their referral source. For example, if someone comes to your website through a Facebook status update for the first time, their referral source must always be recorded as Facebook.
Step 2: Your website visitors surf your web pages and cookie monitors their actions
When a cookie is set and the visitor continues to check out your web pages, automatically all their activities will be recorded. For example, you'll be able to tell which links they clicked, which pages did they view, and other numbers of actions they performed.
Step 3: Visitors completes and submits a form and converts into a lead
Once a visitor finally fills out a lead capture form on your website, the process will match their submission information with their previous browsing history. At this time, you'll have a detailed profile of your inbound lead, including their first name, last name, email address, phone number, and business name.
Step 4: Lead finally turns into a customer and the original source of referral is credited
Once a lead has converted through a form and they seem to be qualified, it's the right time for salespeople to step up to the door and close the deal. Once that lead later turns into a customer, HubSpot will credit the original source (Facebook in this case) as the original lead source.
What are the benefits of closed-loop reporting?
If you'd like to read a highly detailed explanation of how closed-loop reporting actually works, you should definitely read this awesome blog post written by Pamela Vaughan, who is also the current content optimization and growth manager at HubSpot.
In this blog post, Pamela goes on to reveal a number of excellent points, including all the benefits of closed-loop marketing:
Closed-loop marketing helps you to align sales and marketing efforts as well as defines the operations between these two departments. Other advantages include the ability to perform lead scoring systems, sales assignment rules, custom lead scoring, lead nurturing campaigns, and monetary goal setting.
What are the minimum requirements for closed-loop reporting?
In order to implement closed-loop reporting, you'll have to integrate your inbound marketing software with your CRM platform.
There are a number of ways to do this.
If you're using HubSpot, you'll be happy to know that they now provide a free new CRM platform along with their marketing platform that will handle everything for you.

However, you don't have to be using HubSpot's CRM to rake in all the benefits of closed-loop reporting.
HubSpot also provides native integrations for other popular CRM platforms too, such as Zoho, Salesforce, SugarCRM, Pipedrive, Netsuite, and Base. Of all these integrations, the combination of HubSpot and Salesforce seems to be the most powerful and full-featured. No matter what, each of these original HubSpot integrations is developed and supported fully by the HubSpot Support Team so that you won't face any problems.
Key points you just learned
The closed-loop study includes connecting your sales and marketing activities so that you can accurately track the original sources of all revenues.
Businesses that don't implement "close the loop" system often experience out-of-date systems unsynchronized data.
Closed-loop reporting also help build a strong conversion oriented relationship between the marketing and sales team.